About Our School, our Sixth Form, our Staff and our Students
The History of the School
The present school site dates from 1953 and adopted the name The John Warner School in January 1968 in recognition of the major contribution made by him to the development of education in Hoddesdon in the nineteenth century. John Warner, a Quaker, born in 1776 in the City of London, acquired Rawdon House and grounds in 1841 and built the first school for boys of all classes and any religious beliefs.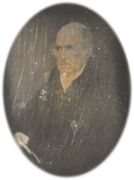 This British School for Boys was open for 20 years. Three subsequent schools - the National (Church of England) School for Boys (1844), the British School for Girls (1847) and the National School for Girls (1858) - were amalgamated in 1930 and, having adopted the name of The Hoddesdon Secondary School, moved to our present site in 1953.
In addition to our state-of-the-art sports centre, we have benefited from £18 million worth of development which means that students now benefit from having some of the best learning resources and accommodation in the country.
This means that students who attend our school benefit from a superb indoor environment as well as a landscaped external environment that provides them with opportunities for relaxation, sport and socialising.
Most recently, the school has opened new centres for humanities, modern foreign languages, art, technology, mathematics, English as well as a new library. Together, these facilities mean we are able to offer a modern and integrated campus to support the work of the staff and learning of the students.
About the school badge...

The quarters on the school badge represent the original four Wards of the Urban District:
Hoddesdon: The Saint Catherine's Wheel denotes the Patron Saint of the ancient chapel which stood on the site of the present Clock Tower in the town centre.
Rye Park: Represented by the facade of Rye House, renowned as the place where plans were made by conspirators in 1693 to kill the then king.
Broxbourne: Symbolised by a badger, used by the ancient families of Broxbourne on their coat-of-arms.
Wormley: The Parish of St Laurence is represented by the griddle of grid-iron on which the Patron Saint was martyred.
Oak Tree: The oak tree in the centre indicates the wooded nature of the area.
About Our School, our Sixth Form, our Staff and our Students